We have mentioned before that eyewear now is something more than just an accessory, it improves our style, daily life and pretty much everything in our lives.
While we secretly are grateful to our sunglasses and glasses, some people took it to a whole different level. There are a few designers who thought it would be a good idea to show all the love to the glasses by making a monument. Let's take a tour and see what the world has to offer in terms of glasses monuments!
How surprisingly it sounds, but we are not talking here about one monument. Designers actually seem to find glasses being quite good and artistic object to get an inspiration for monuments from.
To start with, let's go to Massachusetts, to the homeland of American Optical plant, where you can find a 20-foot-long pair of eyeglasses. The monument was made by the artist Michael J. Saari as a reminder of a birth year of the plant – the year of 1826.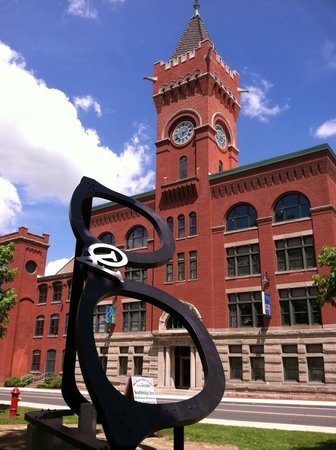 The next stop is the monument on the picture below, which was designed by South African designer Michael Elion and was built in the honor of Nelson Mandela – South African political leader. You can find it in Cape Town's waterfront.
The monument got quite controversial comments as it is probably the most unclear monument to the late South African president one can imagine. It remains unclear how anyone in a position of authority deemed the sunglasses to be an appropriate tribute to the beloved activist and politician.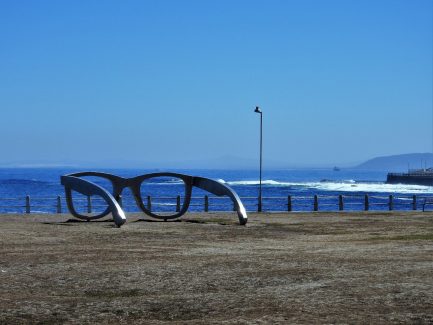 Now let's head all the way to the most Western point of Russia – to Kaliningrad or Königsberg (the former German city which was renamed after World War II). While the city is famous for a lot of large architecture monuments, there is also a small one that particularly attracted our attention.
In one of the movie theatres named Zarya, there is a monument of a hand holding pair of glasses. If you take a closer look you will definitely recognize these glasses. They belong to Woody Allen. The story behind the monument is quite simple but that is exactly what makes this monument one of the most famous and stylish figures around the world. The real family name of Woody is Königsberg exactly the same as the old name of the city.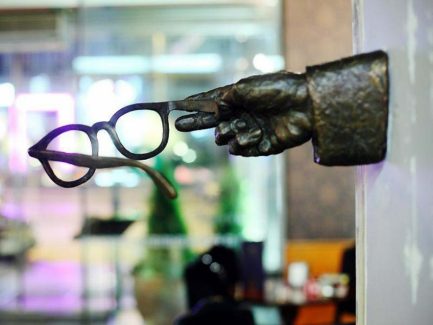 Another pair of glasses was found in Israel in Ein Hod Artist Village!
This small village is nestled just south of Carmel Mountain National Park and has a great view of the Mediterranean Sea and thus providing the perfect picturesque inspiration for new pieces of art. What makes this village unique is that only artists are allowed to own homes and live in town and everything you can see in this village (including the happy glasses on the picture below) was made by those artists.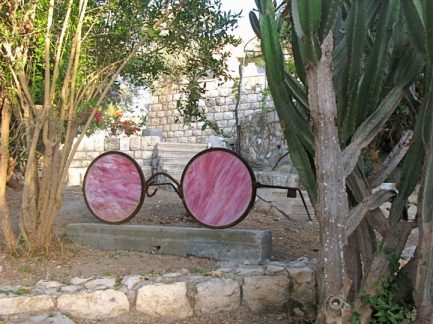 This is just another example of how much eyewear means to us, it can even be an art inspiration! Whether it is a small monument or a large one right in the middle of the city, we still find it a great idea.
The next time you are traveling somewhere don't forget your eyeglasses and sunglasses! And maybe your travel destination can be one of those places above!
Bon Voyage!
ACCRUE
www.accrue.kr
info@accrue.localstar.co.kr